Loyalty program
Create an account on bbdomu.cz and enjoy the benefits of the Bageterie Boulevard loyalty program.
What are the benefits of registration?
Every fifth bagel for half the price
Easier login
Quick access to the history of your orders
Special offers for loyal customers

Registration for the BB loyalty card
The loyalty card can be added to your account in two ways :-) :
New registration for the loyalty card
You can easily register at this link and check the option "No, I am not yet a member." before submitting the form. Don't forget to double-check all the information you've entered :-). Once you confirm the correctness of your email address and phone number, we will automatically assign you a virtual loyalty card and you can start shopping as a loyal customer.

I am already using the BB loyalty card
Do you already have a plastic loyalty card from us? Great! When registering, select the option "Yes, I am already a member" and enter the number from your loyalty card. Then confirm your email address and phone number and your virtual loyalty card will be automatically linked to your account. You can start using the benefits of being a loyal customer immediately.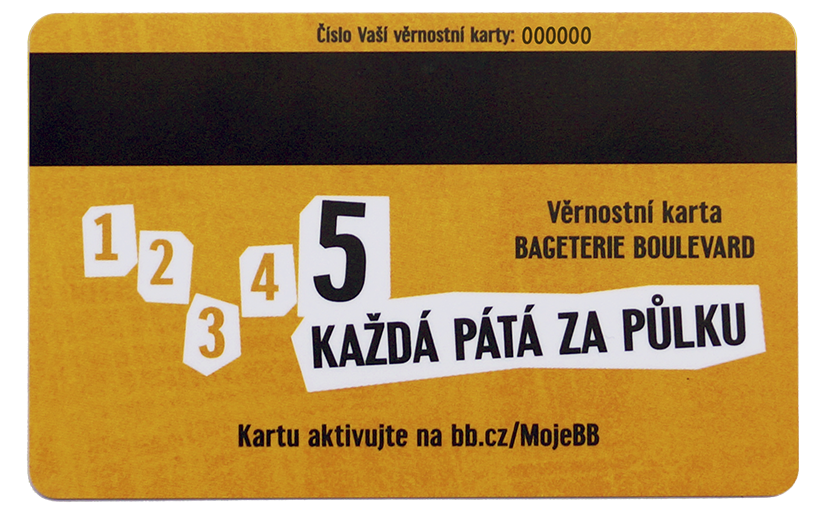 FAQ
Which products does the "Every fifth for half the price" loyalty discount apply to?
The discount applies to all bagels from the basic menu, Chef menu, and Limited Editions. If you choose a full menu, you will get the bagel at half price :). The loyalty program discount cannot be used if a different discount coupon is applied in the order.

I already have an account on bbdomu.cz and I want a plastic loyalty card as well. What do I do?
You can just ask the staff at any Bageterie Boulevard location for a plastic card. Then just log in to your account on bbdomu.cz and select the "CHANGE LOYALTY CARD" option. Please note, changing the loyalty card is irreversible :-).


I have a virtual loyalty card, can I also use it to shop at the location?
Of course :-). Just enter the number of your virtual loyalty card, which you can find in your account here on bbdomu.cz, before completing your order at the self-service kiosk. Alternatively, you can also give the number to our staff :-).
DIDN'T FIND AN ANSWER? WRITE TO US AT PODPORA@BBDOMU.CZ